Podcast: Play in new window | Download
Subscribe: Apple Podcasts | Google Podcasts | Stitcher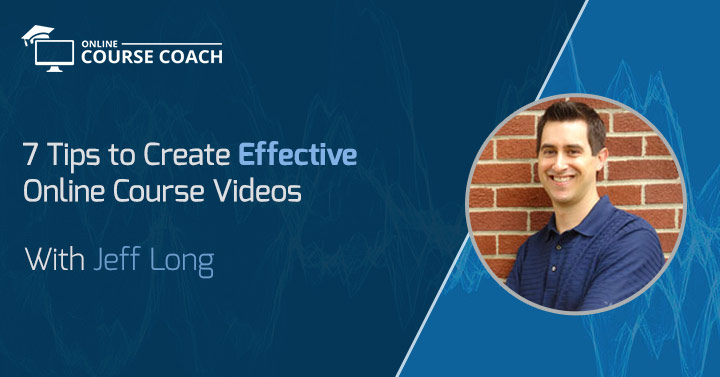 One of the key factors in the success of an online course is how well put together the course content is in your videos. If it's thrown together or isn't done properly you could lose students and income. In this episode, I share 7 Tips to create effective course videos.
---
This episode is brought to you by "Easy Video for Courses". Did you know that online courses that include video are 83% more effective in helping students remember the information better?
But most people struggle with complicated equipment or software, the cost of buying equipment, or they don't feel confident in front of the camera. That's why I created Easy Video for Courses. I've taken all the confusion out of the process so you can make effective course videos in half the time, even if you don't like being on camera.
---
1. Keep your ideas, script and course content outlined using Evernote or Google Docs.
By having your notes on these devices you can sync them anywhere on everywhere on any device. And that gives you peace of mind knowing that if your computer crashes that you haven't lost everything.
2. Survey your audience using Google Forms or Survey Monkey
We all know how important it is to survey your students to ask them what they want to learn and what their biggest struggles are (this is where your best course content can come from). But you can also ask what type of video they like most and would learn best from. You might learn that this type of video will take some time and work for you to complete but that will actually help you stand out from your competition who only created basic course videos and didn't go above and beyond like you will.
3. If you use slides, don't have your slides be a brain dump of information.
Put a few key points, or even 1 statement that you talk about. Just like Ted Talks only have one thing per slide, your slides shouldn't have too much content. Use a mix of stories so you're not just reading from slides. Your students will engage more with your course content if you relate stories throughout your course videos.
4. Use the Know, Feel, Do method to reach different learning styles
Are you only putting information in your online courses or are you engaging your students with different learning styles? Don't forget to use this method to improve your courses. For more information on this method, check out 3 Simple Teaching Tips for Better Online Course Videos.
5. If you don't want to be on camera get creative with alternative videos.
While I recommend being on camera for some or all of your course videos, you can get creative. Create a video where you only show your hands or have someone ask questions to you off camera.  But the main thing is to not underestimate the expertise that you provide. You don't have to be a world famous expert. You just have to be 1 step ahead of your students. Keep your focus on your students and not on you. Know that you are your worst critic. While you might think you look or sound strange, your students will not…I promise you!
6. If you're filming with your iPhone or webcam, turn off notifications and put your phone in airplane mode
There's nothing worse than a distraction while you're filming so put your phone in airplane mode and turn off any notifications on your computer. This will make your course videos go a lot better and you won't be distracted by anything.
7. Buy an external hard drive to store your course videos
You never know when a computer will crash or fail. Plus video content will fill up your computer quickly so buy an external hard drive to store your videos. Even better, use Dropbox or Google Drive to store the files and sync them in the cloud. You want to be able to access these files in the future if you need to change something and having them synced online will greatly help. I recommend having a local backup AND a cloud backup. That way you reduce the risks.